(Really) Fun Things To Do in Southampton
April 3rd, 2020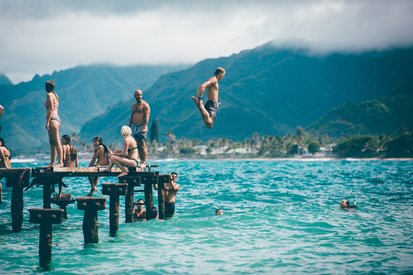 Southampton is a bustling port city only 70 miles away from London – so if you're drawn to the bright lights of the big city, you wouldn't have to go far.
However, there's lots to do in Southampton, so whether you're into history, art or sports, we've got some suggestions for you!
If you're travelling alone, moving to the area and getting a feel for the city or looking for a fun day out with your family or friends, here are 10 fun things to do in Southampton.
1. The Secrets of the Titanic walking tour
The most famous ship that ever sailed departed from Southampton in 1912 – and now you can go back in time and immerse yourself in the history of the city that built the Titanic. This tour is ideal for new visitors to the city as you'll get a great overview of some of the best spots and soak up the culture.
2. Solent Sky Museum
The birthplace of the spitfire, the Solent region was the centre of the world for aviation research and development from 1910 to 1960. Over 25 aircraft manufacturers make this area their home, and have built everything from biplanes to spacecraft! The legendary Spitfire is still star of the show here, though Solent Sky Museum is also home to the Hampshire Police and Fire Heritage Collection, so you'll get two museums for the price of one.
3. SeaCity Museum
One of the newest museums in the city, SeaCity Museum features two permanent exhibitions about the city's connection to the Titanic, and another about the city itself – a smaller exhibit than you might expect but great to get an idea of the area, with lots to do for young children. The SeaCity Museum is a great one to revisit as they host a third rotating exhibition, so there's always more to see and do.
4. Tour the Football Stadium
Find out where the Saints go marching in as you explore St Mary's Stadium – Southampton Football Club's home since the start of the new millenium. You'll get an up-close look at the first-team changing rooms, visiting team changing rooms, the player's tunnel and the conference room around the stadium – a life-changing visit for a dedicated football fan!
5. Houdini's Escape Room
Rated the number 1 escape room in the world on TripAdvisor (we're not kidding, it really is that good!) and with over 600 five-star reviews on Google, Houdini's Escape Room in Southampton is great fun for family and friend groups. They currently offer 3 Escape Rooms, one themed around Alcatraz prison, one set on a Jurassic island, and one themed around the iconic Titanic. With very low success rates – only 18% of visitors manage to escape from Escape From Jurassic Island! – this offers a great challenge and a memorable experience!
6. Alpaca Walking
Just a little way outside of Southampton, Hensting Alpacas offer alpaca walking experiences – definitely something a little bit quirky that you might not think to do! The alpaca birthing season is in the summertime, so if you time it right you could be around to see lots of fluffy little alpaca babies running around! The farm also hosts special themed walks on holidays like Valentine's Day and Easter – so make sure you time your trip to get the most out of this unusual experience.
7. Alpine Snowsports
Alpine Snowsports in Southampton offer a wide range of skiing and snowboarding activities from the beginner to the pros! Take your pick from skiing, snowboarding, donuts, sledging and toboggans. They even offer reasonably-priced lessons for children, so if you're moving to the area it's a great perk to tell reluctant movers about!
8. The Tudor House and Garden Museum
The Tudor House and Garden Museum is Southampton's first, opening in 1912. It's a gorgeous Grade 1 listed building housing a wide range of artifacts and exhibits that depict the history of the city from the Tudor Times onwards. The Tudor House and Garden Museum has a gift shop and cafe which are both accessible without paying museum admission – perfect for stocking up on souvenirs and meeting up with friends for coffee and cake.
9. New Forest Wildlife Park
New Forest Wildlife Park a little way outside of Southampton is focused on conservation and breeding endangered species – perfect if you're a budding David Attenborough! The park offers Keeper Experiences, giving you a full day one-to-one experience of being an animal keeper for animals such as otters, deer, badgers, wolves and wildcats!
10. Nuffield Southampton Theatre
NST is one of the UK's leading producing theatres, with an in-house team that has premiered and adapted a large number of tales for the stage across their two city-based venues. There's something for everyone at Nuffield Southampton Theatre; they produced and directed David Walliams' hit "Billionaire Boy" for children and "A Streetcar Named Desire" wowed theatre fans on its UK tour.
Here's a little extra idea to get you inspired: did you know you can ​walk the city walls​ to get from place to place? The walls are dotted with information boards to ensure you don't miss any of the history around you, and walking along the walls adds a whole new dimension to your exploration of the city.
So, now we've given you some ideas for 10 fun things to do in Southampton, are you convinced you'd like to move to the area? If you're considering ​moving to Southampton​ – or even relocating your business to the city, we can help!