8 Things To Do Before You Move Into A New House
March 27th, 2020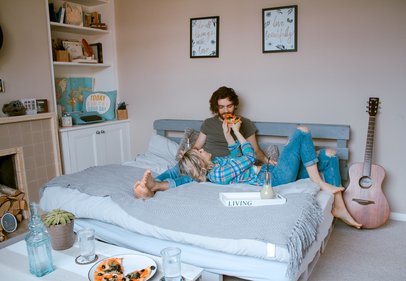 Moving house can be stressful, we know! Although it's so exciting to have a fresh start and a blank canvas to call your own, the moving process and getting everything finalised once you're in your new home can be a bit of a nightmare.
To make things a little easier for you, here are 8 things you should do before you move into your new house.
1. Arrange your removals company.
This is so much more important than you might think! Making sure that the removals company you've chosen is a good fit for you can make things go smoothly on moving day. A good company will offer you a quote before you make a decision so you can make sure you're getting a great deal and an efficient service.
If you're considering just asking friends and family to help you move, try reaching out to a professional service, even if it's just for some information about what they offer.
Some will come and pack up your furniture and white goods for you, transport them to your new property and unpack them at the other end – would your friends and family be able to do that as efficiently as the professionals? It's worth spending a little more on a removals company to make sure that nothing gets broken – and if it does, it's insured! – and you'll be met with a team who take pride in their work and minimise stress.
2. Make a checklist.
We don't mean on moving day, either! Make a checklist when you know what date you'll be moving. This way you can start to clear your property ready for the removals process! You could decide to pack up one room at a time – leave your essentials unpacked, of course! – or start upstairs, or downstairs. Choose a method that works for you, but make sure you keep track of everything with a checklist so you know what you've packed and where it is.
3. Arrange your utilities.
There's nothing worse than slow Wi-Fi, right? Wrong – how about no Wi-Fi? Call up your provider to make sure that your new property will be supported at the same speed as your current home. If not, ask if they can reduce your bill or help you leave your contract to find a more suitable provider. Make sure you know if you're moving to a property with gas and electric meters or if they're on a tariff – you'll need new top-up cards if the property is metered. Make sure you've got a bit of money on these cards for your first few nights in your new house or it could be very chilly!
4. Make sure your children and pets are ready for the move.
If your little ones are of the two-legged or four-legged variety, you've got to make sure that they're prepared for the move. Children can be roped in to help with the packing process – make it fun for them, so they're not too worried about leaving their home and moving into a new one. Pack little treats, like new toys or some sweets, for them to unpack at their new home. They'll need to be enrolled in a new school, and make sure they have a new doctor and dentist too.
If you're moving house with pets, make sure that you're ready to travel with them – if this means getting anti-car-sickness tablets for your dog, so be it! – and make sure they're registered with a vet at your new address.
5. Update your address.
Online shopping and doing things online are like second nature to us – so make sure your online shopping accounts are up to date with your new address, as well as important things like your bank account. You don't want your latest online shopping purchase to arrive at your old house!
6. Check your house alarms, smoke alarms and carbon monoxide detectors.
If your property has a house alarm, make sure you know the code to switch it off! Ideally, you should change the code for your peace of mind. Ensure your smoke detectors and carbon monoxide detectors are in full working order – you can ask the fire brigade to install new ones if the ones in your new property are outdated or not working. Make sure you check the battery first!
7. Pack a box of essentials for your first night in your new house.
There's nothing like a nice cup of tea (or glass of gin!) for your first night at your new house. Try to pack an essentials box that can travel with you in the car for quick access when you get to your new property.
There's nothing worse than digging through boxes to try and find individual bits and pieces, so make sure you pack your kettle, something to eat and drink, a phone charger, a charger for your laptop or tablet (they can make a makeshift TV in a pinch if yours hasn't been unpacked yet!). If you've got children and/or pets, make a box for them too, including snacks, toys and games for your children, and food for your pet.
8. Deep clean your new house.
Even if you're buying a shiny new build, try to do a big clean of your new property when you move in to make sure that everything is clean and safe, especially if you have young children and pets.
Although most sellers will clean their house before they move out, it's difficult to ensure that they've done a thorough job, so you may as well go in there with a microfibre cloth and some disinfectant just to make sure. Make sure you buy new toilet seats, and if the previous owners left their mattresses, get some mattress protectors just in case.
Once you've settled in your new house it's time to start thinking about how you can put your stamp on it. Best of luck, and have fun!