BEST Restaurants to Eat in Southampton
April 3rd, 2020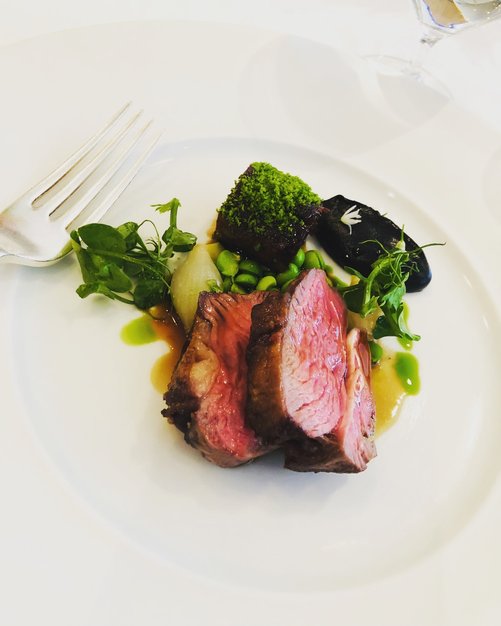 Southampton is sometimes called Europe's cruise capital, so it makes sense that its restaurants need to be a high standard to satisfy hungry holiday-goers.
Whether you're looking for a breakfast spot, the best coffee shops, amazing restaurants for a dinner date or even allergy and dietary restriction-friendly eateries, we've compiled this list of the best places to eat in Southampton.
The best breakfast spots in Southampton
There's no better way to experience a city than people-watching from the window of a cafe. Start your day off right with these gems – and we'll have a Full English Breakfast, please.
Uptons of Bassett – Steak Bar Bistro
With a focus on locally-sourced meat and homegrown ingredients, Uptons of Bassett adds a touch of class to your regular Full English. They offer breakfast and brunch as well as a steak menu in their modern butchers shop in Southampton. What's best on the breakfast menu? Their Peruvian Chicken Bagel won "Britain's Best Bagel" in 2016, and you can't argue with that.
Miss Ellie's Cafe
For those in search of a family feel, Miss Ellie's Cafe in Southampton serves all-day cooked breakfasts and makes a great Sunday Roast if you're out and about on a weekend! It's great to see a family-run cafe hitting the top spot; Miss Ellie's Cafe was awarded Best Cafe in Southampton in 2019 – and apparently, their poached eggs are to die for.
The Docks Coffee House
Inspired by the European lifestyle, The Docks Coffee House opened in 2017 and has been raved about ever since. The owners describe their coffee house as a "traveller's outpost" disguised as a coffee shop – the perfect place to start your holiday if you're heading out on a cruise from the port, or to cure those holiday blues if you're on your way home. They serve amazing coffee, with vegetarian and vegan options alongside their all-day bacon, sausage and egg baps made with locally sourced meat from the New Forest.
The best coffee shops in Southampton
Can't function without caffeine? Us neither. Explore some independents for your coffee fix and see what Southampton has to offer.
Make & Brew
Make & Brew are a local business serving specialty coffee and tea, as well as locally baked cakes and pastries! Their unique selling point is in their name – the cafe hosts art sessions where people of all ages can enjoy some decopatch crafts. The coffee shop even caters to little ones – serving up a hot milk babycino!
The Artisan
The Artisan takes its coffee seriously, and with two "Barista of the Year" national winners behind the counter, we're not surprised! Enjoy luxury hot chocolate if coffee isn't your thing, or veg out with an all-day breakfast while you get your caffeine fix. The Artisan also hosts bookings, so consider this quirky venue for your birthday or baby shower – or even a work meeting!
Cafe Fumee
If you want to enjoy your coffee Parisian-style, try out Cafe Fumee. They're passionate about coffee and offer a great customer experience every time. Try out a specialty coffee alongside a sweet or savoury crepe, and get ready to make Cafe Fumee your everyday coffee top-up.
The best restaurants in Southampton
Getting dressed up and heading out for a meal is one of life's simple pleasures. Whether you're off out on a romantic date, or celebrating an occasion with family and friends, you'll find an eclectic mix of restaurants to enjoy in Southampton.
Bacaro
Everyone loves Italian food, right? Bacaro shares the essence of Venetian​ bacari​ (that's small plates, by the way) with an extensive bar menu, amazing Italian wine and warm hospitality. The restaurant serves locally sourced food including ice cream from New Forest Ice Cream, and they're conscious about the sustainability and welfare of the meat they serve. They also have an extensive gluten-free menu. You mightn't be sailing in a gondola underneath the Rialto bridge, but you're halfway there eating at Bacaro.
Baboo Ji Vegetarian Kitchen
If you find it difficult to eat out at restaurants with a vegetarian or vegan diet, look no further than Baboo Ji Vegetarian Kitchen. This plant-based Indian restaurant offers sharing platters if you can't decide just what to order from their mouth-watering menu, or choose some small plates if you want to sample everything. And trust us, you'll want to sample everything.
Carnicero Steakhouse
If you're a big eater, chances are you've dug your teeth into a steak or two. Carnicero Steakhouse is the best reviewed steakhouse in Southampton, serving up chargrilled steaks from USDA, Hampshire, Australia and Aberdeen Angus. Pair your steak with a wine list from Elegant Wines, and don't worry – they provide for vegetarians and those who eat gluten-free too!
Ennio's
Set in a beautiful Victorian hotel, Ennio's has been featured in The Telegraph for its exquisite Italian menu. The Head Chef has curated a menu that represents the best of Italian cooking, including antipasti, pastas, pizzas and the best-seller, a mixed seafood. They serve a full selection of coffees, liquers, whisky and brandies to wash down your meal. Cheers!
Piecaramba!
Definitely one for the kids and those young at heart, Piecaramba is reinventing pie and mash, and "dragging it kicking and screaming into the 21st century"! They offer a wide variety of pies, including vegetarian, vegan and gluten free options, as well as a kid's menu offering mini
versions of their favourite pies.
No matter what you're hungry for, you'll find something in Southampton. Got your mouth watering? If you're considering ​moving to Southampton​, we can help! Get in touch to see how we can make moving day go smoothly so you can enjoy your next chapter in this beautiful port city.