How to Dispose of Unwanted Furniture Before Moving
March 31st, 2020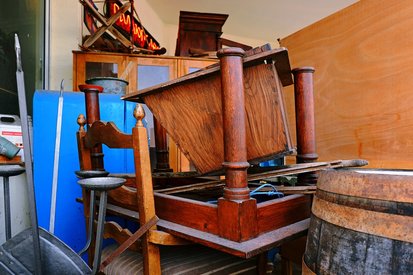 The technicalities of moving house can be stressful. Once you've got the paperwork out of the way, you've spent hours with your solicitor or real estate agent and the end is in sight, you might encounter some more practical problems…
If you're downsizing, moving in with a partner, friends or family, or your tastes have simply changed, you might end up with furniture that doesn't work for your new home.
Don't panic – there are plenty of things you can do to make sure you don't end up haunted by that ugly old sofa that you don't quite know what to do with!
There are more regulations than you'd think when it comes to disposing of old furniture before you move house, so to prevent unnecessary waste, here's what to do with old furniture before you move house.
Donate your unwanted furniture to charity
Although this seems like a no-brainer, there are actually a couple of rules when it comes to donating your old furniture. It needs to be in acceptable condition – so no big rips, stains or tears on soft furnishings, and no noticeable chips, dents or scratches on objects like tables and chairs.
In the UK, your soft furnishings will also have to have a 'fire label' attached: this is a tag that lets you know the piece of furniture meets British fire safety standards. If you've cut the tag off or your furniture didn't have one to start with, unfortunately you won't be able to donate it to charity.
If your furniture is in good condition and has a fire safety tag if applicable, ring round a few local charities to see if any of them offer a free collection service. This is a great time to get rid of other belongings – stick them in a free charity bag and donate them along with your old furniture.
If you can, try to find a small, local charity that accepts furniture. Although any charity shop would be grateful for your donation, some bigger charities receive donations from furniture outlets and stores. A tiny local charity shop could benefit from the £50 from your old kitchen table more than you'd think.
Take it to the tip
Tip, dump, junkyard – whatever you call it, there's usually somewhere nearby that will take your rubbish. Some have recycling plants built on, so consider looking into whether your wooden furniture could be recycled. You'll need to either rent a minivan or make multiple trips to get everything to the tip, but if you want your old furniture gone quickly and it's not in good condition, this is a great option.
Make sure the tip is open and accepts furniture before you set off – there's nothing worse than packing up the car only to come back home again!
Sell at a car-boot sale
If you've got a lot of little pieces – end tables, small bookshelves, electricals or white goods – try having a stall at a car-boot sale. You might end up only making pennies – buyers love to haggle! – but it's worth it to get your furniture out of your hair before the move!
Look online to see what car-boot sales are popular in your area – and if possible, go a week ahead to scout out what people are selling. If there are lots of furniture sellers, it's worth noting – people will travel to this sale to pick up some bargains! If all you can see are old video games, books and kids' toys, maybe find a different option.
Sell your furniture online or on social media
If you want to scoop up a bit of extra cash before moving day, consider listing your furniture on a selling site, or on Facebook Marketplace. You can request that buyers transport the furniture themselves so you don't have to hire a lorry to get rid of your old sofa!
When carrying out a transaction via the internet, make sure you take payment first and try not to be alone with the stranger who is coming to buy your furniture! Weather permitting, you could leave it outside for them to take away with them once they've paid you via PayPal, or bringing you some cash.
Rent a skip
If you've got a lot of old, stained or broken furniture that you just want rid of, maybe it's time to invest in a skip. You can rent them for a day or two, or longer if you need to. Most companies will come and remove the skip – and anything in it – once you're done, but bear in mind you might need to pay extra if you've exceeded a weight limit or there's too much in the skip for the workers to deal with safely.
Upcycle your old furniture
Okay, so it's not technically getting rid of your old furniture, but bear with us! If your piece of furniture is structurally sound, clean and free of any rips or tears, you can give it a new lease of life with a lick of paint or some new covers – or why not get crafty and customise your furniture with some adhesive vinyl, furniture paint or chalk?
Arrange a pickup from your local council
Some councils will pick up and dispose of particularly large furniture items, in order to prevent them being fly-tipped or thrown away by the side of a road.
Look on your local council website to see if they do any collection or disposal routes in your area. If your council doesn't do disposals, try asking for the number of a local scrap man or woman, who might come and pick up your old furniture for a small fee.
So there you have it – our suggestions for getting rid of your old furniture before you move house. Moving into a new home creates a clean slate – so try to avoid bringing any unnecessary clutter with you. It'll make moving day go a lot more smoothly!
Need a hand with moving your house in Maidenhead or anywhere in the Berkshire ? Contact us today to get a free estimate for your move.