List of Schools in Southampton
April 3rd, 2020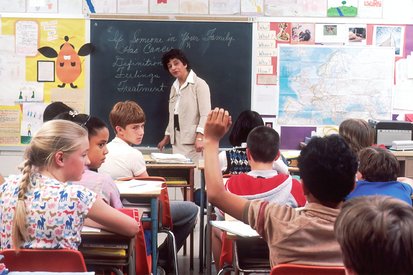 Although Southampton might be better known for the quality of its university student life, there's a huge number of excellent primary and secondary schools in the city for you to choose from.
There's no shortage of open green space in Southampton – and plenty of museums to do a bit of extra-curricular learning! We've compiled a list of some of the best-performing schools in Southampton for you to browse if you're considering moving to this port city.
Primary schools in Southampton
Primary school can set the trajectory for your child's academic future. Although they might start in nursery getting messy and making friends on the playground, the right primary school can nurture your child's individual ability and make the transition into further education an exciting prospect.
Portswood Primary School
The top-performing primary school in Southampton, Portswood Primary School accepts children from age 2 (into its nursery) to 11 years old. The school places an emphasis on independence and individualism, developing its young learners to create well-rounded young people.
Highfield Church of England Primary School
Highfield C of E Primary School values the happiness of its students, stating that they enjoy Christian principles and family values, with an emphasis on individual learning and personal progress. There are a wide variety of clubs and extracurriculars to join, including Spanish and Latin classes, gymnastics, singing clubs, dance and drama and even a Lego club for your little inventor.
Sinclair Primary and Nursery School
Sinclair Primary and Nursery School accept children from 4 to 11 years old into their friendly family-feel setting. They aim to create confident learners who are excited to explore the world around them, and feel safe to make choices and decisions around their own education. The school offers some clubs including singing, colouring, gymnastics, football, dance and computing – plenty on offer!
Secondary schools in Southampton
Leaving primary school behind can be a daunting task for children – they'll often be split up from their childhood friends, and could be nervous about entering a new environment. Try to tackle their fears by choosing a great secondary school with lots to offer, and we're sure they'll be impatiently waiting for September 1st!
Bitterne Park
A mixed comprehensive for eleven to nineteen year olds, Bitterne Park is home to eighteen acres overlooking the River Itchen and Riverside Park, which are being developed to provide students with outdoor sports facilities and social spaces.
The school is particularly proud of its Performing Arts department – perfect for your William Shakespeares in the making – and built new drama and dance studios, music rooms and a theatre in its state-of-the-art £24 million building.
St Anne's Catholic School & Sixth Form College
St Anne's Catholic School & Sixth Form College is a girls' school accepting students from 11 years old to eighteen years old. The Sixth Form is co-educational. The school performs excellently – placing it in the top 10% of schools nationally for its exceptional exam results, and topping the A-Level results table in the Hampshire district for non-independent schools. The school is focused on the impact of God on everyday life, creating a community dedicated to compassion, dignity and empowerment for its girls.
St George Catholic College
Accepting boys and girls from 11 to 18, Saint George Catholic College is another school that puts religion first – leading to a community atmosphere based around encouraging individual excellence and independence. The school offers a broad range of extra curricular activities including sports like football, basketball, netball and cricket; STEM clubs, an eco-committee, regular theatrical performances and choirs.
Private education in Southampton
If you and your children are really serious about education and you've got the budget to do it, you might be interested in sending them to some of Southampton's most prestigious academic institutions.
King Edward VI School
With an impressive 460 year history, King Edward's is the leading private school in Southampton, with a renown for artistic and sporting opportunities. The school accepts boys and girls from 11 to 18 years of age – including acceptance into its Sixth Form. The King Edward VI School campus is equipped with a professional-standard performance theatre, 17 science laboratories, six tennis courts and four netball courts set in thirty-three acres of grounds.
St Mary's Independent School
Accepting students from 3 years old all the way to 16 years old, St Mary's Independent School says they offer "an educational experience unlike any other school in Southampton". They pride themselves on being an "all-through" school, meaning your child will continue to be nurtured and encouraged in the same environment all throughout their academic career.
Although the school is a Catholic one, they are keen to welcome students of all faiths, or those with none. Students are offered a wide range of extra-curricular activities including studying extra language, learning a musical instrument, playing sports or joining in with theatre and dance.
The Gregg School
The Gregg School accepts boys and girls from ages 11 to 16. It's a small school with around 300 students at any time – so you'll know your child is getting the one-to-one attention they deserve as their academic potential is nurtured. The school offers a wide range of extracurricular activities and clubs, including a Chamber Choir, Mindfulness sessions, film clubs, charity groups, sports and music.
Moving to Southampton?
If you're moving to Southampton, these are the schools to go for – they're the best performers in the city. However, the area as a whole is great for schools – there's a wide variety to choose from, and a lot are small and local, with a great family feel.
If you're considering a ​move to Southampton​ with your family, why not get in touch to see how we can help make moving day less stressful?