Things to do in Maidenhead with kids
March 31st, 2020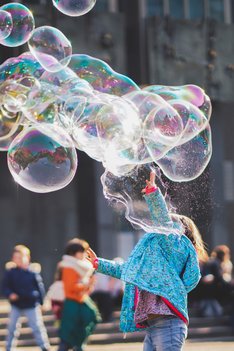 Maidenhead is within easy travelling distance to Windsor, Surrey and London, but what if you don't fancy going too far afield for something to do with the little ones? We've got a list of things to do with your kids in Maidenhead – as well as some suggestions for activities, extracurriculars and after-school clubs for when you need five minutes of peace!
Norden Farm Centre for the Arts
This quirky venue has it all – film, comedy, drama, dance, music, theatre, arts and crafts and a family-friendly cafe and restaurant! The venue regularly hosts children's theatre, holds messy arts and crafts sessions, baby ballet (suitable for 2 to 4 year olds), sensory and music play for babies and toddlers. Norden Farm is ideal for a structured morning that'll keep you on track while the kids go wild!
BCA Zoo & Education Centre
If the idea of spending all day trogging around busy London Zoo gives you the creepy-crawlies, opt for an afternoon at BCA Zoo in Maidenhead instead, which doesn't offer walk-ins. Instead, this small zoo offers "zookeeper experiences" for adults and older children – perfect if you've got an animal lover at home!
Braywick Nature Centre
A community hub that aims to educate and inspire visitors about the natural world, Braywick Nature Centre is the perfect spot for a sunny picnic, or splashing in puddles in the Spring! Your little adventurers can run around to their heart's content, hunt for bugs, build dens and bird-watch in nature. We know for a fact they'll be fast asleep in the car on the way home!
Magnet Leisure Centre
If your little one is on the competitive side, a membership to Magnet Leisure Centre is on the cards. The centre boasts an eight-lane competition swimming pool and 10 sports courts for them to hone their skills – and a soft play for the littlest members of your family! There's something for the parents too – why not unwind after a tough gym session in the spa?!
Kidwells Park
If you've got children of mixed ages, Kidwell Park is a great boredom-buster. Regular attractions like a touring funfair often set up shop in the park, and there's a great playground suitable for kids aged 3 and up. Older kids will love the skatepark and BMX tracks, and if you've got the next Andy Murray or Serena Williams at home, there's tennis courts for families to use too.
Copas Farm
A mile or so out of Maidenhead, Copas Farm lets you and your little ones pick your own fruit and vegetables. Every trip will be different as the seasons and crops change – perfect for starting a family tradition! Enjoy strawberry picking in the summer, decorate a pumpkin in Autumn – and best of all, get your kids to enjoy eating fruit!
Ockwells Park
The highlight of Ockwells Park is the sandpit – make sure you bring a bucket and spade (and a change of socks, because nobody likes sandy socks!). It's a lovely safe area perfect for kids who'll want to run off and create their own imaginary games down the woodland trails, surrounded by bluebells in the summer.
The Amazing Rainforest
A couple of miles outside Maidenhead you'll find The Amazing Rainforest – which is exactly what it says on the tin! Experience the magic of the rainforest inside this glasshouse, full of over 700 types of plants and animals, including butterflies, monkeys, toucans and free-roaming lizards! This is sure to inspire kids of all ages with a love for plants and animals.
If you've exhausted this list, here's a few suggestions for extra-curriculars, activities and after-school clubs for your school-age children. Enjoy a coffee or a stroll around the shops for a rare bit of 'me' time while your little ones have a ball. Some of these options are franchises which are operating classes or workshops within Maidenhead.
FunTech Coding and Tech Camp
If you can't tear your children away from their screens, why not teach them the science behind what makes the Internet?! FunTech offers after-school classes and holiday workshops based on the latest tech, touch typing and coding. Soon your 10 year old will be your very own tech support!
Progressive Sports
Offering after-school classes, weekend classes, holiday workshops and parties, your active kids are going to want to be a part of Progressive Sports. They'll take part in fun, active sports like football, hockey, dance and gymnastics to help tackle childhood obesity, help your children make friends and take pride in their sport.
Stagecoach Performing Arts Maidenhead
Stagecoach Performing Arts Maidenhead holds weekend classes and holiday workshops teaching children singing, dance and acting. The Maidenhead branch takes their students on tours around London's West End theatres and have performed in the parades at Disneyland Paris. Perfect for your drama queens and wannabe rock stars. Stagecoach Performing Arts are inspected regularly – similar to Ofsted inspecting primary and secondary schools! – and all staff are DBS-checked industry professionals.
Smart Raspberry Cooking School
If you've got a mini Gordon Ramsey at home – hopefully with less of a potty mouth! – try out Smart Raspberry Cooking School. Your children will learn kitchen safety and food hygiene as well as some simple and fun recipes to feed your family.
Rugbytots
Start your little sportsman or woman early with rugby classes suitable for children as young as 2! Rugbytots is all about learning through play – so your imaginative little one will have loads of fun while they're learning to share, play together, good sportsmanship and, of course, how to play rugby! Coaches are all DBS checked and first aid trained so you know your little one is in safe hands.
No matter what your child or children like to do – whether they're sporty, arty, theatrical or just in their own little world, you'll find something for them to enjoy in Maidenhead and the surrounding areas. Enjoy your time as a family while your kids build new skills, find new interests and passions, and most importantly, have fun.
Looking to move or store your possessions in Maidenhead? Contact Maidenhead Removals Company to make your moving day smooth and FUN!