Best Areas to Live in Birmingham
January 7th, 2020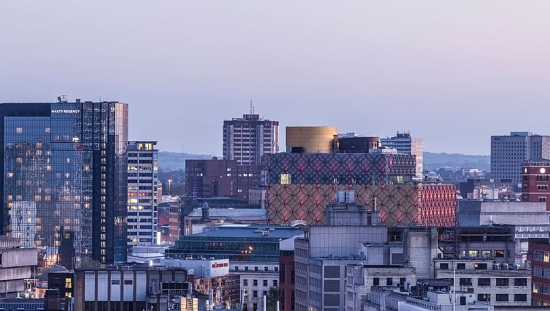 Whether they're buying their first home or relocating with your growing family, tens of thousands of people are relocating to Birmingham. In 2018, the number of people moving out of London to make their new home in Birmingham was higher than the number of people moving into London from Birmingham and the surrounding areas – and it's not hard to see why.
So if you are looking to move, Olympia Removals Company Birmingham will be more than happy to move you from or to Birmingham.
The city is an excellent base to call home – capital city London is only an hour and a half away on the train. Birmingham Airport is the third biggest in the UK, and the city has excellent transport links, including city-wide tram service, making the city the perfect place to live and work outside of London. The city is a digital pioneer – Birmingham is home to the UK's first ultrafast 5G test.
Birmingham boasts five canals – more than Venice! – attracting big-name Michelin star restaurants to pop up along the shores. If culture is what you're after, the city is a proud host to over 45 festivals every year, celebrating film, literature, music and art. Birmingham is home to some of the best shops in the UK, and the Bullring is one of the biggest shopping centres in Europe.
While Birmingham is perfect for a city break, the area is experiencing an economic boom and buyers are rushing to snap up property in Britain's second-largest city.
How much is an average property price in Birmingham?
The average price of a flat in Birmingham in 2020 is around £156,000.
The average price of a terraced home in Birmingham in 2020 is £166,000.
The average price of a semi-detached home in Birmingham in 2020 is £219,000.
The average price of a detached home in Birmingham in 2020 is £420,000.
Although there's a clear sliding scale of property prices here, property in Birmingham sells on average for around £208,000, and includes city-central apartments and suburban family homes.
What are the best areas to live in Birmingham for first-time buyers?
Birmingham was dubbed "the city that won't stand still" by The Telegraph so it's clear to see why so many people are flocking to the West Midlands to step onto the property ladder.
Here's a list of the best areas to live in Birmingham for first-time buyers:
Bearwood
Named the best place in the UK for first-time buyers by the Sunday Times, Bearwood has earned its spot as a firm favourite for new property owners. Packed with independent businesses, coffee shops, bars and restaurants, Bearwood has a wholesome hipster culture favoured by millenials and young families. The average price paid for a property in Bearwood in 2020 is around £175,000 with well-sized flats and charming two-bed terraces dominating the market.
Digbeth
A ten-minute walk from the city centre, Digbeth is a cool neighbourhood attracting young professionals and first-time buyers who want to experience city life. The area has excellent transport links and access to the Bullring, and places an emphasis on the arts: with cinemas, art galleries and installations popping up all over the neighbourhood. Digbeth is populated mainly with apartments, which cost on average £166,000 in 2020.
Selly Oak
Situated close by to the University of Birmingham, Selly Oak is home to a number of students, contributing to a cosmopolitan and lively culture. There are excellent transport links from Selly Oak Railway Station, leisure facilities including a library and pretty local park, and a retail park nearby. In 2020, buyers in Selly Oak paid on average just £81,000 – which won't put too much of a dent in your savings if you're buying your first home.
Nechells
With a young population (the median age of residents is just 25, compared to the Birmingham average of 32), Nechells is a great choice for first-time buyers to invest in a property. The council is working hard to regenerate this urban area, with the introduction of an entertainment complex including a tenpin bowling centre, restaurants and shops, and one of the biggest Vue Cinemas in Europe! Average house prices in Nechells are sitting at around £129,000 in 2020.
What are the best areas to live in Birmingham for families?
Whether you're moving into the city or searching for a new area to call home, families generally have different priorities to first-time buyers – they'll need to consider local schools, community and activities for their children as well as whether the price is right.  Here are some of the best areas to live in Birmingham for families:
Moseley
Perfect for community-seekers, Moseley boasts an established Neighbourhood Forum and magazine, as well as an award-winning farmers' market, an arts and culture festival, literature festival and folk festival throughout the year. There are two secondary schools in Moseley, as well as a number of primary schools including Uffculme School, a school suitable for children on the autistic spectrum. Pretty three-bed terraced homes and semi-detached properties fill the market in Moseley, with an average property costing around £330,000 in 2020.
Edgbaston
Home to Edgbaston Cricket Ground and Golf Club, the Priory Club and the University of Birmingham's Medical School, Edgbaston is an affluent suburb with excellent transport links into the city centre. The area boasts a number of independent primary and secondary schools, and is home to the prestigious Elmhurst School for Dance. Semi-detached family homes dominate the market here, with an average price of around £400,000 in 2020.
Solihull
A quickly developing area of Birmingham, Solihull is home to a number of transport links including main roads leading to Warwick and Stratford, with quick links to Oxford and London. Solihull has an impressive yet quaint high street, featuring Tudor architecture and a mix of local and established businesses. This Tudor style extends into the property in Solihull, with Tudor semi-detached homes costing on average £370,000 in 2020.
If you're considering relocating to Birmingham to buy your first property, or to find your new family home, make sure you check out these areas. You can also see a list of schools in Birmingham and the best things to do in Birmingham.